We are lovers of our history, tradition and our land. Our only obsession is to maintain the legacy of our ancestors and thus maintain the essence of tradition. We are not satisfied with producing Iberian products with the best flavor and the best quality. We want to offer our customers a memory of their origins with a real product, maintaining an ancestral recipe and traditional methods of preparation. We want to be able to enjoy the authentic Iberian flavor and the essence of always.
Acorn-fed ham 100% Iberian breed
Iberian acorn-fed ham 50% Iberian breed. Select Format
Iberian ham of field bait 50% Iberian breed.
The selection of our own Iberian pig huts, on our farms, conceived for this sole purpose, is a very remarkable element in our manufacturing processes. Process that combines deep-rooted customs with constant improvement operations. Our farms are located in the south central area of ​​Extremadura, in the heart of the Extremadura dehesa. They are meadows with a high density of oaks and cork oaks, which form the ideal place for breeding the Iberian acorn-fed pig.
Iberian acorn shoulder 50% Iberian breed.
Acorn shoulder 100% Iberian breed.
Iberian bait shoulder of 50% Iberian breed.
Recipes from Grandma Carmela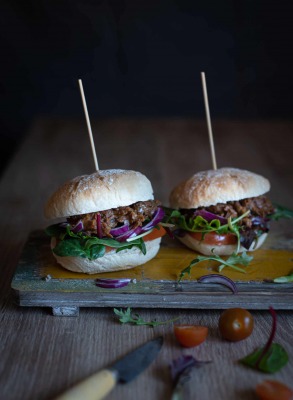 Do you like hamburgers? Want to try something different? Today we bring you a way to innovate in your burgers to give them a very special touch.
read more
Our ranching legacy dates back more than 70 years. Generation after generation, our grandfathers and grandmothers have been able to transmit the traditional know-how of how to make the best Iberian pork products. This know-how and the experience gained over the years have managed to shape our greatest secret: a recipe that maintains the flavor and essence of always in all our Iberian loins. "The recipe of our grandparents, the traditional Iberian flavor"
Lomo de Bellota 100% Ibérico Approximate weight.
Iberian acorn loin 50% Iberian breed. Approximate weight
Iberian loin of Cebo de Campo 50% Iberian breed. Approximate weight.
Iberian Bait Loin 50% Iberian breed. Approximate weight.
The elaboration of our products has a marked artisan character, the perfect balance between the practices inherited from the artisan tradition and technological development, have created a product of the highest gastronomic level. Drying rooms and natural cellars make natural maturation over time generate aromas and sensations, transforming the pieces until they acquire their final nuances with rest.
Iberian chorizo of cular bait. Approximate weight.
Iberian cular sausage. Approximate weight.
Extra Iberian Morcon. Approximate weight
Iberian loin Approximate weight
Buen jamon

excelente trato y producto exquisito
Abigail Fernandez
01/26/2022
Recomendable
Muy buen servicio
Jorge Gonzalez
01/26/2022
Muy Satisfecho
tuve una peque?a incidencia en cuanto a la log?stica pero la atencion fue muy cordial en todo momento pendientes, el producto esta de lujo. Muy recomendable
Marcus Calero
01/23/2022
responde rapido

me resolvieron una incidencia en 24 horas
Carmelo diaz
01/21/2022
buena gestion
buena gestion y rapidez de envios
Roman Reyes
01/21/2022
atencion al cliente
buena atencion al cliente y disposicion
Regina Sanabria
01/20/2022
Buena experiencia

varios pedidos y sin ningun tipo de problemas, muy buena atención
Sonia Colorado
11/28/2020
Lo recomiendo
recomendable al 100% estamos muy contentos con vosotros
Angel Villalobos
11/17/2020
Exelente producto

La verdad que terminamos encantados con vuestros productos y muy amables que sois
Inmaculada
11/16/2020
Buena tienda
Buena tienda, realmente la recomiendo.
Silverio
11/15/2020